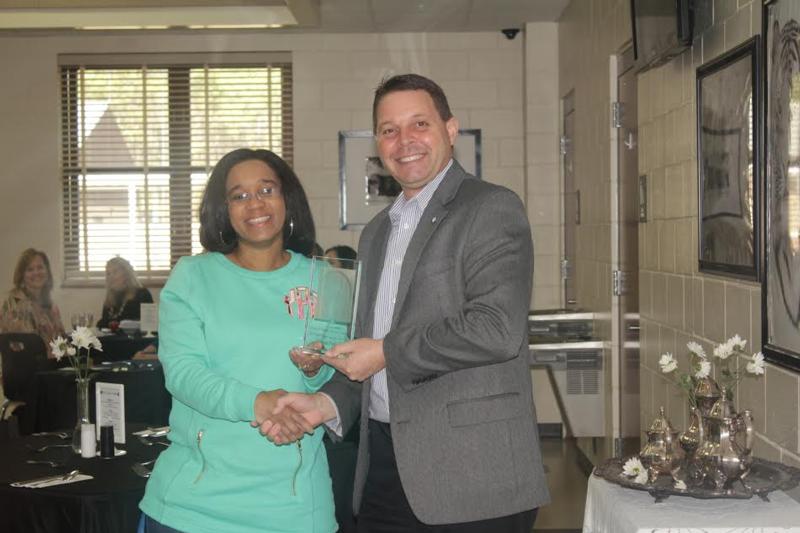 Blountstown High School is proud to announce Mrs. Yolanda Pittman as the Calhoun County School Related Employee of the year and BHS School Related Employee of the Year. Mrs. Pittman has been an asset to the BHS staff and has made a positive impact on the BHS lunch program.
Mrs. Pittman describes herself as the proud mother of four sons. She says, "I absolutely love my job. I began the lucky tray program for the students in the lunchroom. I volunteer with several of the athletic programs here at BHS. I work with an amazing group of ladies. I thank God for opening this door for me."
Mr. Jeffery, the BHS Teacher of the Year, adds: "Mrs. Pittman has always been involved in the school and does her very best to help anyone with whatever she can. I hear from the staff regularly on how she has completely changed the atmosphere in the lunch room. Everyone seems so much happier and they are always smiling! The entire lunchroom feels like it is encompassed in a happy aura. Not only has Yolanda changed the atmosphere, but she has also improved the quality, taste, and presentation of the food. The reaction from the high school staff has been overwhelmingly positive on her transition into her current position. She has an entire student body and staff to feed each day, but somehow she still finds time to make the teachers an extra dessert. We don't ask her to make these treats; she simply does it out of the kindness in her heart. Her joyful personality is infectious and causes everyone around her to be cheerful. I couldn't be happier with our high school's choice of School Related Employee of the Year."
Join us in congratulating Mrs. Pittman for her amazing work!